Earlier in the week, I posted on what apps and subscriptions I have currently, going into 2022. I thought it was helpful to clarify for myself where my financial commitments were going. Even free apps will use data—either data that I pay for, or data that I create in using it—or my time, both of which have financial implications. I thought, therefore, it might also be helpful for me to sketch out what I am consuming in RSS right now. As I said before, nearly everything is inside Net News Wire, an original RSS reader for the Mac with a protracted, yet storied provenance.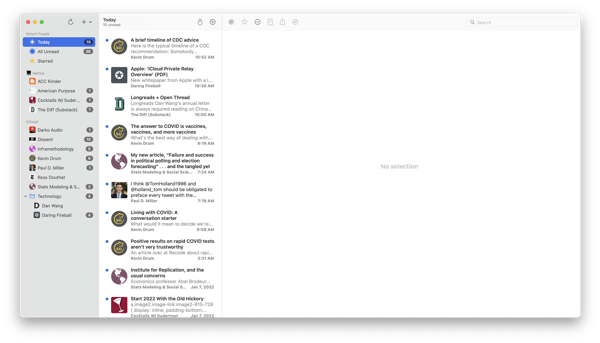 In addition to reading both the NYT and WSJ most weekday mornings, a common theme you'll find here a heterogeneous and eclectic mix of political writers and websites, from social-democrats, to libertarians, to constitutional-conservatives. Much of these readings patterns are functions of my day job, but also of adding, dropping, and re-adding websites and writers who continually show up in places I respect. My goal is to have a broad mix in my morning reads. Basically, if I don't finish the queue on any given day, it all gets marked as read and I don't worry about what I missed.
On my Laptop
ACC Kinder. The class blog for my son's kindergarten class. Infrequent updates, but I like to have the RSS here so I don't miss anything.
American Purpose. Long-form essay on classical, constitutional, liberalism. This is a great website of liberal and conservative thought "of the old religion" (i.e., neither woke-progressivism, nor populist-nationalism).
Cocktails With Suderman. Peter Suderman is a journalist for Reason who started a stubstack in late-2020 on home bartending. It's great. I can't afford to being a paid subscriber, but I've learned a lot. (Don't sleep on Rittenhouse, folks!)
The Diff. A Substack on finance and technology. It's a recent subscription, and I don't have a settled opinion.
Synced to iCloud
Darko Audio. John Darko has the best music first audiophile website you can find. He also has a great YouTube channel. I don't read Stereophile or Absolute Sound anymore, not because I don't like reviews of $100k audio equipment the editors think is "modestly priced." (I actually like that attitude sometimes.) Rather, they are part of an older business model where so much is pay-walled, the ads aren't good, and writers have a lot of contempt for contemporary music. I don't have time for that in my daily news reading.
Dissent. Arguably among the the best intellectual centers of gravity for the democratic left.
Inframethodology. It's a writing blog for social science, but really, so much more. If you write for a living, or if writing is important—read this blog.
Kevin Drum. formerly of The Washington Post and Mother Jones. Drum writes on public policy and is an old school blogger (since 2002, IIRC).
Paul D. Miller. A personal friend's Twitter feed. I'm going to think carefully about who I want to subscribe to on Twitter, but I suspect by year's end, I'll have a folder of roughly a dozen folks I take seriously enough to read in NNW.
Ross Douthat. Conservative columnist for The New York Times. IDK if it's possible to get this feed without the paywall, but since I get the Times from my university, I've never bothered to check.
Stats Modeling & Social Science. Look—this is an inside baseball website. But even for those who aren't professional social scientists, you can learn a lot if you suck up and read it regularly. I still don't always get what's going on, but I've learned more than I can mention from this site.
Dan Wang. Currently with Bloomberg, Dan's been a technology writer focusing on Asia for a long time.
Daring Fireball. Mac/Apple Blogger. John was one of the first bloggers I subscribed to in college.
What's getting dropped, or has been dropped
That's it. I wonder how this list will shape up through the year. I know it's changed a lot since last year, and I regret not writing down where my news consumption was back then.